I'm pleased to have you join my weekly newsletter. I hope you find my advice on leadership valuable, and I look forward to hearing your personal insights and stories in the comments section of each blog post.
Below is a link to download your free eBook, Modern Meeting Management.
Thanks again for subscribing!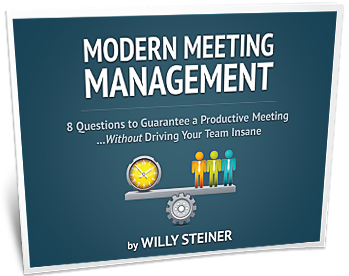 We also just sent an email to your inbox with a link back to this page so you can re-download the eBook in the future.
Troubleshooting: If you're using Gmail and you didn't get it, make sure you check your "promotional" tab, and drag and drop our Executive Coaching Concepts email to your primary tab to make sure you don't miss our future emails.
If you're having problems viewing the PDF, or Acrobat Reader is telling you that your file is damaged, please update to the latest version of Adobe Acrobat Reader. It's free, and will usually solve your problem.
If you continue to have problems, please send me an email.
Next Steps
Are you on Facebook? If so, I would greatly appreciate your support in the form of a "Like" on the Executive Coaching Concepts Facebook page.
To read more more of my Thoughts on Being a Leader, please head back to the Coach's Corner Blog.