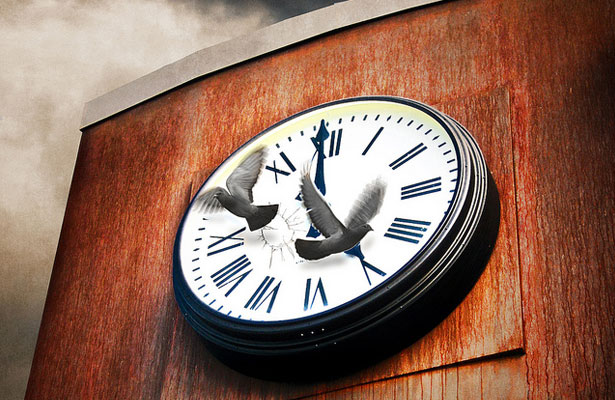 A client of mine was asked to take the helm of a new brokerage branch that combined three existing branches in a major metropolitan area. Its design would make it the new benchmark across the national platform. This Branch Manager is also a member of a very successful team within the branch that deals mainly with high net worth clients. She has been recognized nationally as being one of the very top Branch Managers in the country for all financial services firms.
As the planning for the actual consolidation drew near, I asked my client how she was going to adjust her work efforts to accomplish all that was going to be required in the new role. I suggested she do a "Time Bucket Analysis" and she identified what the top 5 to 7 key areas of where her time SHOULD be going. She then tracked her ACTUAL time to see where it went. We'll talk more about the process in a moment, but my client realized very quickly that she had a potentially difficult issue on her hands.
As a senior female leader in a predominantly male industry, she was very much in demand for participating in diversity and women focused initiatives in the firm… and she enjoyed her work on those efforts. However, when she actually counted the amount of time she gave these efforts, within the firm and in the community, she realized she had a problem – she had let it get away from her. With the shifting demands on her time for the new branch office – it would have over 30 financial advisors and 22 support staff she was responsible for – she realized she would not be able to maintain that level of commitment, regardless of the personal interest and the intrinsic rewards she enjoyed from it.
So what exactly is a Time Bucket Analysis? Here's a list of the buckets for a senior technical VP of a leading US Cable company:
Team Management / Development: Reviews, HR, Team-Building, Interviews, Classes
Project Management: Staff Meetings, Prioritization Meetings, My Boss' Staff, My Boss' Boss Staff, Cross Functional Meetings, Legal
Research & Development: Lab Time, Research Hours, Vendor Tech Calls
Industry News + Networking: Vendor Sales Calls, Conferences, Contact Calls, Updating Contacts
Intra-Company Development: Meetings + Calls regarding projects outside the scope of the HSD Product [VOD, Digital Phone, DVR, TV, Single Sign On, ESB]
Write Code / QA Others' Work: Coding + QA Hours, Bugzilla + Bug Scrubs
Here are the "buckets" for the former CEO of Starbucks: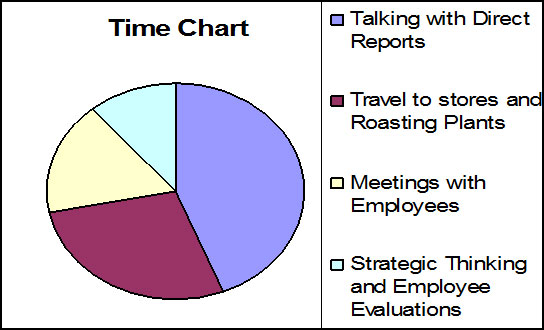 If you end up with more than 7 Buckets, you are in danger of creating a task list. You need this to be much simpler. Once you have determined your buckets, ask yourself:
How much of your time do you INTEND to spend in each bucket? Assign a % to each.
Go back 2 months and match up ACTUAL vs. INTENDED or start now and begin to track it.
Where are the GAPs? Specifically:
Where did you spend more time than you intended? Why?
Where did you spend less time? Why?
This is a good time to consider how the rhythms of the year influence how your time is spent. Monthly, Quarterly and Annual meetings and reports should NOT pop up and surprise you! Plan to give yourself more time to prepare! Bake that into how you use your time!
What's sucking up your time, taking more than you had allotted or think you should?
Renegotiate, Delegate, & Track Your Time! Find time for planning and preparation and get out of things you know are no longer a high priority!
If you don't measure it, you can't improve it! Have your assistant help do this for you once you explain the buckets to them.
In the case of the client I introduced you to earlier, she let the leaders of various groups and task forces she was on know that she would either discontinue her involvement or scale it back. She got out in front of it and communicated on her terms. That way no one was left hanging and she did not suffer by disappointing herself or others by failing to attend. She has no regrets.
You are the only one who can control the majority of the time you spend on various duties. Ask yourself:
Do the choices I make regarding how my time is spent reflect the very best investment for me, my team and the organization? And it should be in that order!
Am I willing to be disciplined about identifying where I am out of balance in the use of my time?
Can I renegotiate or delegate to get to a better balance? If you can, will you?
Good luck with your Time Bucket Analysis. I look forward to your thoughts and comments. Please share your experiences or ideas with us all in the comments section below.
Photo Credit: aussiegall / CC